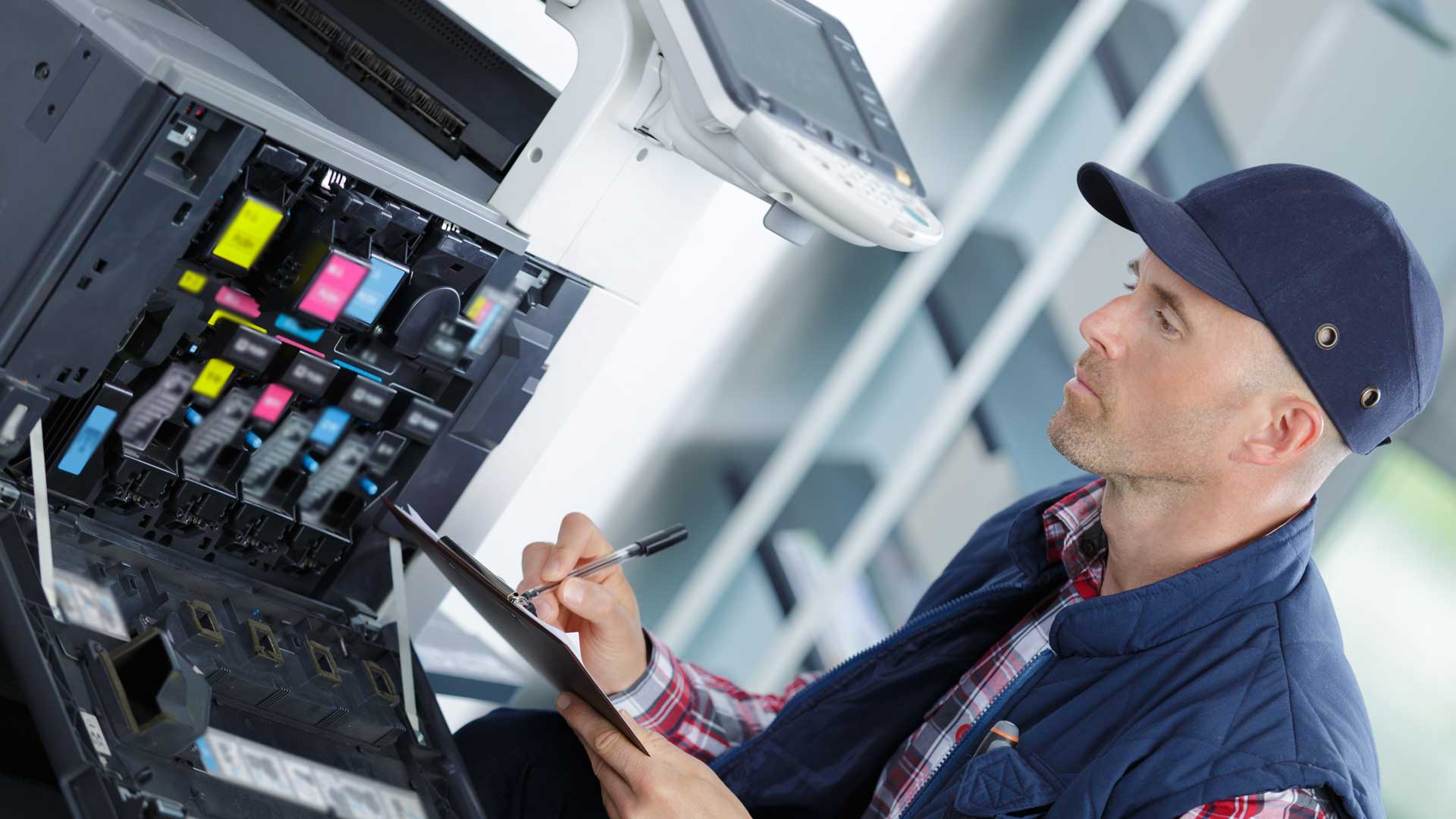 Advantages of working with Data Comm as your printer/copier/MFP solution provider
Our Environmental Toner Cartridge Supplies:
Data Comm's Environmental toner cartridges are produced right here in the U.S. with all new parts and are individually tested. This translates into our customers consistently getting what is being paid for as well as having better supplies for a positively cared for printer fleet with longer printer fleet life expectancies.
Remanufactured cartridges not from Data Comm that are sold by big box companies and online sellers source their cartridges from out of the country. These types of products use older cartridge casings through collections, and they do not consistently replace the cartridges' internal working parts in their remanufacturing process. They are also not individually testing their cartridges.
Why this is important to keep in mind, and what this all means is that your printer fleet wears down much sooner, and they also do not have the consistency of output without U.S. production standards.
Additionally, Data Comm is your only supplier that will annually perform preventitive maintenance on your printers and at Zero Charge, and we are the only company as compared to the aforementioned that will send out an onsite local technician to look at and take care of your printer in any case where there is a quality or function question with regard to supplies.
Data Comm also picks up its customers empty laser toner cartridges continuously in keeping with Green-Earth directives at Zero cost along with discounted printer repair support with zero trip charges.
Data Comm's supplies are competitively priced, and these supplier value-add details are important considerations to keep in mind when deciding what printer supply and repair solutions company you choose to take care of your companies expensive printer fleet.
10 Reasons Data Comm Outperforms the Giants
Specialist
Expenditures for technology office supplies have now surpassed traditional office supplies. Specializing in technology supplies allows us to outperform the giant suppliers who try to be everything to everyone.
More Selection "In Stock"
Data Comm stocks an in-depth selection of computer, copier, fax and printer supplies that are often not available from general office supply sources. All 4,000 items from 70 national brands are ready for immediate shipping.
Product Options
By educating our customers on product options, Data Comm helps buyers save up to 35% or even more. Our reps will assist in choosing the best supply value for your specific application and budget.
Discount Pricing
The mega-suppliers have huge operating costs and slow inventory turns. Our specialized product line moves three times faster, allowing us to pass along lower costs and frequent manufacturer price reductions to you more quickly.
Personal Service
Our experienced and trained representatives take pride in providing traditional personal service. You will enjoy the continuity of working with the same person every day — a person who knows you and your account.
Expert Reps
Because we specialize in technology supplies, our reps are product experts. They'll give you the quick and correct answers you need for your changing equipment needs.
Quick Delivery
Our distribution center stocks the complete product line for next-day delivery. Same-day courier delivery is available for rush orders. Data Comm has delivery capabilities across the US for regional and national accounts.
Accuracy
Our fullfillment accuracy, measured at 99.7 percent, is unsurpassed in the industry. We never substitute products without prior authorization.
Internet and Electronic Connectivity
Data Comm offers easy online ordering complete with inventory confirmation, customized reports, shipping status and more. We stand ready to work with your company on Internet and EDI/XML connectivity.
Headquartered in Brownsburg
Data Comm is a Brownsburg-based business with a track record of serving corporate accounts with integrity for more than 25 years!